Eco-farming where people and nature coexist
Looking back over the past 10 years, every year, Korean Peninsula was hit by the record-breaking extreme weather events that were "the first time in 100 years." Our nation in the 2050s, when the babies born this year will enter their 30s, will be very different from today.
These abnormal climate are occurring not only in Korea but also around the world. Like the Covid-19 pandemic that has knocked down the world over the past year, the climate crisis will threaten the most vulnerable areas and people in our society first.
Korea is one of the food import countries with the low grain self-sufficiency rate among OECD countries. Our tasks are to prepare for food security threats and maintain the food self-sufficiency rate at an appropriate level. To solve the challenges, it is time to find the solution in the eco-friendly food industry that considers climate and biodiversity protection.
Eco-farming is a sustainable approach to responding to the climate crisis and conserving the ecosystem diversity. The International Network for Eco-Farming (INEF) was launched to share the right knowledge about healthy food and develop and expand a model of rural villages where people and nature live in harmony based on eco-farming.
The INEF will create 5 committees for planning and policy; external cooperation; fostering eco-farming; eco-friendly village network; and education and public relations. Our activities will start in Gyeongsangnam-do and gradually expand the scope to the national and global levels.
Based on eco-farming, INEF will help the sustainable development and competitiveness of rural areas, and, in turn, we will become a driving force for eco-farmnig for Gimhae, Gyeongsangnam-do, Korea, and the world.
Thank you.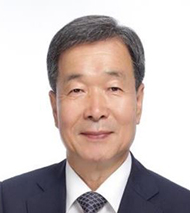 The president of the International Network for Eco-Farming